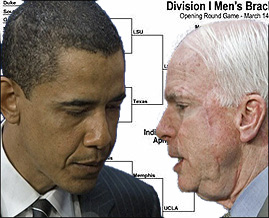 Are You Smarter than a Presidential Candidate?
It turns out that most of us are. Contenders John McCain and Barack Obama each made public their picks for the 2008 tournament. Obama participated in a $10 office pool, while McCain took part in his staffer pool, but being an opponent of gambling on college sports, awarded a McCain '08 jacket to the winner. Whoo Hoo. They finished in a statistical dead heat, tied at 109th in the CKI. Check out the Players Standings to see how you did against *** McCain *** and *** Obama ***.

When asked for her picks, Hillary Clinton played the question as she usually does, a political point to be exploited and answered with half-truths and doubletalk. Citing her experience as an All-American point guard at Wellesley College, she referred the inquiry to her husband Bill, who passed on making selections. After all, there were still primaries in states with teams in play. Mrs. Clinton's picks are expected to be released at any moment.